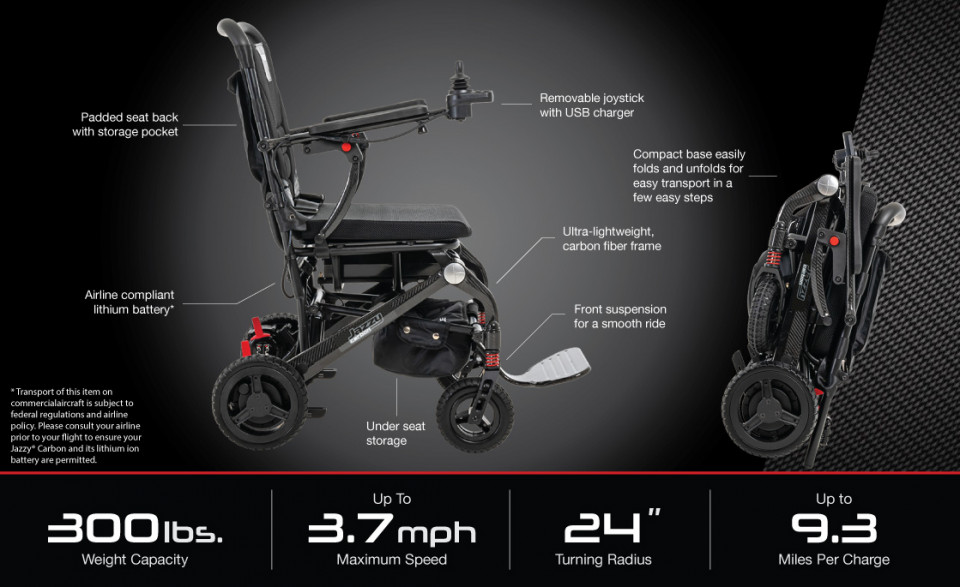 Jazzy Carbon
Pride
Weight Capacity 300 lbs.

Component Weights:

Base: 39.6 lbs.
Battery: 4 lbs.


K0899 Power Mobility Device, HCPCS Code not coded by DME PDAC or
does not meet criteria
Maximum Speed2 Up to 3.7 mph
Drivetrain 24v/250W brushless motors
Braking System Regenerative and electromechanical
Standard Seat3 17" x 17" black foam
20.25" with standard cushion 18.75" without cushion
Per Charge Range3,5 Up to 9.3 miles
Standard Electronics 35A Brushless Micon
Base: 39.6 lbs. Battery: 4 lbs.
Total Weight 4 43.6 lbs. with batteries
Battery Requirements 24V 12AH (288WH) lithium-ion
Battery Charger 2 amp, lithium-ion off-board
Lifetime limited on frame;
1-year limited on electrical control/ lever system, motor/drive system, bearing sleeve and battery
How Can We Help You?
When finished with your inquiry click "SEND" and we answer fast! Otherwise, partial data is retrieved from our server every 3 hours.