Go Back
Manual Wheelchairs
Transport Wheelchairs
Transport wheelchairs, or companion chairs, are used by a companion to help get your loved one to and from appointments or go on an outing.  They have four smaller wheels, are built for indoor and outdoor use and they are super lightweight to carry and setup -some weighing as low as 14.5 lbs.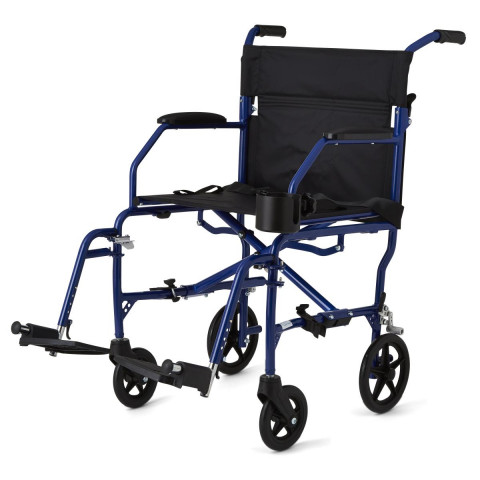 Ultralight Transport Chairs
Medline
This durable transport chair weighs less than 15 lbs., yet has a weight capacity of 300 lbs.
More
Manual Wheelchairs
Manual Wheelchairs have two large wheels where a user can self-propel using hand-rims. They come in 5 general categories to suite your needs:
Standard Wheelchairs - These are your basic economy wheelchairs, the are good for indoor/outdoor use and light commercial use. However, they are heavy which is an important factor when considering the user will have to push that weight or lift it into a vehicle for transport.  
Lightweight Wheelchairs - Made from lighter materials, these wheelchairs resemble their standard-type cousins. Generally, these chairs have better wheels and bearings, plus the lower weight, that make more efficient to self-propel or push by companion.
Reclining Back Wheelchairs - Reclining wheelchairs, as the name implies, allow the seated users to recline in their chair. Reclining wheelchairs allow the user to be placed in a more comfortable position. They tilt to nearly a full recline. 
Heavy Duty Wheelchairs - Heavy duty wheelchairs are built specifically for users that need a wider seat and higher weight capacity. Heavy duty wheelchairs may accommodate users up to 700 lbs. and with seat widths up to 30". 
Performance Wheelchairs - High tech meets high performance in our performance wheelchair category. They are designed to work as almost an extension of your body. Every section of the chair is customized to your body type and for optimal efficiency. We will fit you to fit you and your activity level.  Performance chairs come in general models:

Foldable frames- these fold in the middle - "accordion" style.
Rigid frame -one piece frames, which offer lower weight and power transfer.
Basic Manual Wheelchairs start at $235.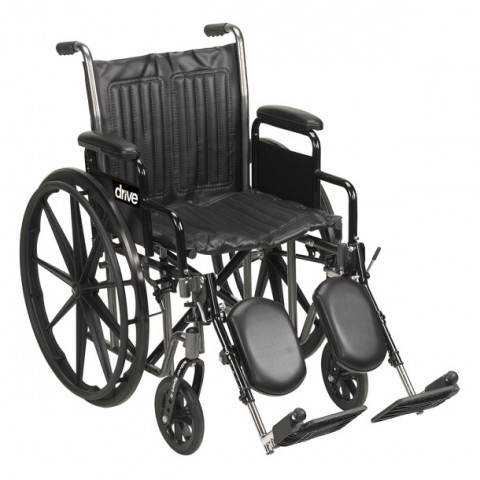 Manual Wheelchairs in 18, 20, 22 inch
Drive
We carry Drive, Medline, Lifestyle Mobility, SoLite and others. Brands may vary but the quality remains the same.

These chairs are durable, stable and folds easily for storage and transport. Suitable for indoor and outdoor use, it features stylish Mag-wheels with solid, puncture-proof tires and resilient, lightweight plastic handrims.


More
Please contact us for rigid or customized chairs by TiLite.