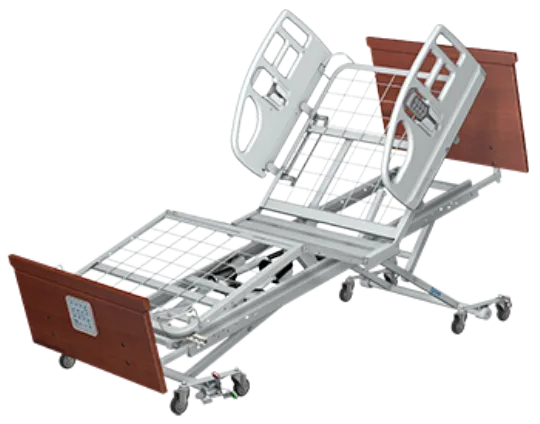 Span America Advantage Bed
Span America
We offer this bed package with laminate standard head and foot boards in summer flame, 1 set of either half or pivot assist rails, and a high end geo-Ultra mattress.
Advantage Bed Only $2799
This bed features a safe working load (SWL) of 500 pounds. The Advantage Hospital bed has a four deck grid with optional width expanders of 39 or 42 inches. Standard lengths are 76 or 80 inches with extender length option of four to six inches. 

-Travels virtually straight up and down, protects walls and equipment, legs spaced for equipment clearance
-Mobile or locked at any height; easier bed re-positioning safer when staff is not hunched over
-Smooth, easy to clean deck surface, won't snag on gloves and cleaning cloths, easier to disinfect, won't tear linens or mattress bottoms
-Precision welded orthopedic grid decks provide ventilated support surface, perimeter welded for no-sag support
-Optional dollies streamline bed logistics, easily attachable with pin and key provide platform for servicing and maintenance
-Individually powder-coated bed components; durable, flexible polyester finish resists chipping and flaking
-High-angle adjustable vascular foot rest eliminates need for pillows and blankets to prop up feet

Bed Specifications:
Deck Length: 76" or 80"
Deck Width: 30"
Deck Height Range: 7.875" - 30"
Length with Bumpers: 88.75"
Head Elevation Range: 0 - 70 degrees
Knee Elevation Range: 0 - 20 degrees
Safe Working Load: 500 lbs (includes resident, mattress, head/foot boards, and accessories)

Certifications
Certified to UL/CSA standards

Electrical Specifications
Electric Motors: Four (4) DC self lubricating Linear Actuators.
Voltage: 110 Volts
Hertz: 60 Hz
Rated Amps: 3.5 Amp Max.
Cord Type / Length: 2.5 Meters minimum 3 prong.
Emergency Power back-up battery Pack: Optional. 24 Volt.
Generally available and in-stock.  Please call for more information. 
How Can We Help You?
When finished with your inquiry click "SEND" and we answer fast! Otherwise, partial data is retrieved from our server every 3 hours.