< Back to Catalog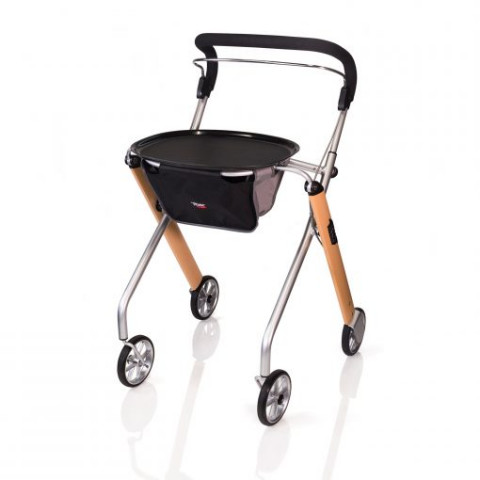 Let's Go Indoor Rollator
Trust Care
The Stander Let's Go Indoor Rollator by Trust Care is an innovative walking aid that gives users independence, balance, and support while at home. Weighing only 14.8 pounds, easily navigate narrow hallways, bathrooms, or kitchens with the compact frame and 6-inch front swivel wheels. The locking brake system can be operated with only one hand and stops both rear wheels; when not in use activate the parking brake to keep the walking aid close by. Conveniently transport items between rooms or keep personal belongings close by with the included plastic tray and fabric basket. When folded, the rollator can easily fit in a car for transport or be stored standing up in a closet. Maintain your at home independence with this versatile walker rollator.
Overview
FOLDABLE: Compact footprint measuring 11 by 22 inches; neatly store the Indoor Rollator when not in use or during transport
COMPACT: Maneuver through tight spaces; Measuring 22" wide and 24" deep when open
TRAY & POUCH: Securely transport personal items with the included fabric basket and plastic tray
LIGHTWEIGHT: Weighs just 14.8 lbs and supports up to 250 lbs
STYLISH DESIGN: Swedish designed rollator is available in 4 color choices to fit your personality and lifestyle
SWIVEL WHEELS: 6-inch front locking swivel wheels provide stability and security when walking
LOCKING BRAKES: Full-length brake handle easily locks walker into place when not in use
ADJUSTABLE HANDLE: Soft-foam handle adjusts in height from 32.5"-37.5"
Accessories
Related Products
Video