< Back to Catalog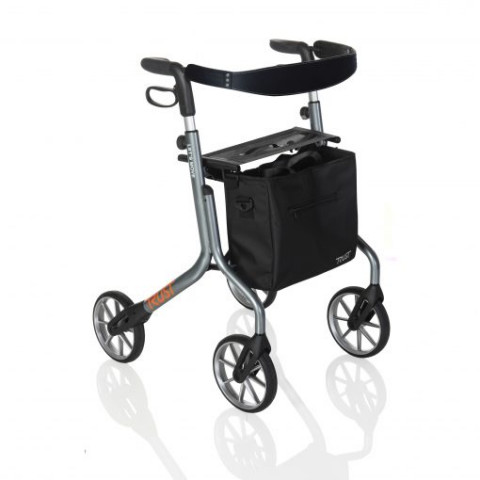 Let's Move Outdoor Rollator
Trust Care
The Stander Let's Move Rollator by Trust Care is an innovative walking aid that gives users independence, balance, and support while at home or on the go. Weighing only 12 pounds, easily navigate narrow hallways, bathrooms, or busy sidewalks with the compact frame and 8 inch swivel wheels. The comfortable mesh seat and full back strap provide a convenient place to rest and the rear locking brake system is built into the ergonomically shaped handles; when not in use activate the parking brake to keep the rollator close by. Conveniently transport items and keep personal belongings close by with the included fabric bag. When folded, the rollator can easily fit in a car for transport or be stored standing up in a closet. Maintain your independence with this versatile walker rollator.
Overview
FOLDABLE: Easily folds to be self-standing with a compact footprint measuring 8 by 25.6 inches
COMFORTABLE SEAT: The seat measures 17 inches wide to offer the user a comfortable place to sit and rest
LIGHTWEIGHT: The 12-pound frame is easy to load and unload from a vehicle or bus and supports 350 lbs
SYLISH DESIGN: Swedish designed rollator is available in 2 color choices to fit your personality and lifestyle
STORAGE BAG: Includes a detachable fabric bag to securely transport personal items
MULTI-PURPOSE WHEELS: 8-inch wheels glide across outdoor surfaces; use when traveling, running errands, or getting around the house
LOCKING-BRAKES: Control your movement with the rear locking brakes or activate the parking brakes when stopped
ADJUSTABLE HANDLES: Ergonomic handles can be easily adjusted from 30.5"-36"
Accessories
Related Products
Video